Hey all! Long time no blog =) I'm currently uploading a haul video from glamour doll eyes and I said I was going to do a blog post with all the swatches. Well, I lied. I'm actually took photos of all the shadows I own, but I didn't get around to swatches yet. Don't fret though! Once my Halloween preorder sets come in, I'll get around to swatching everything. But for now, lets show you all the colours I own.
I'm going to start off with glitters, which are called eyelights on the glamour doll site. [all info where to purchase will be at the end]. These retail for $4.50 for the full size and are absolutely amazing.
Glowstick: A neon glow in the dark looking green glitter.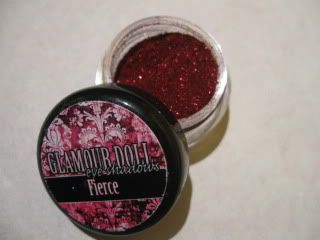 Fierce: A rich dark red, perfect for Christmas.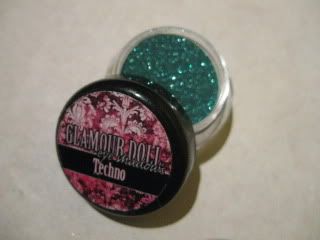 Techno: Bluish aqua glitter that reminds me of beach water.
Rave: The best purple glitter anyone could with for.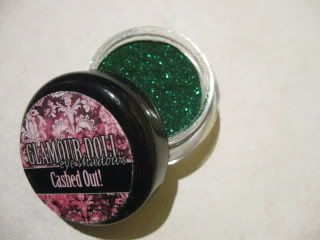 Cashed Out: This is vegas. At its finest.
Now onto the actual shadows, which retail for $6.00 for a full size jar. They are loosely arranged lightest to darkest.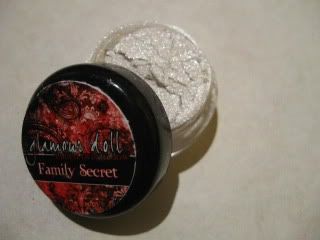 Family Secret: This is actually from the "twi-shadows" which is a collection of shadows based upon the Twilight books. This is a shimmery white, perfect for highlighting.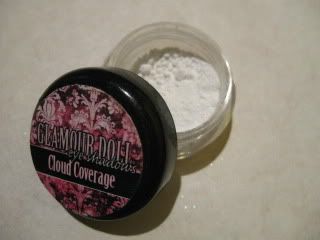 Cloud Coverage: A matte white. From what I remember this shadow was reformulated and I have the old formulation, which is chalky and I barely use it. But hopefully the new formulation is as good as the rest of the matte shadows. =)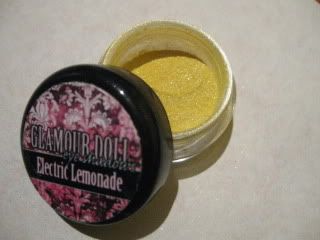 Electric Lemonade: Shimmery bright golden yellow. This shadow is so great for a fun look.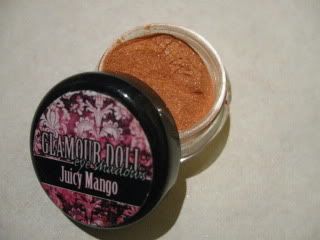 Juicy Mango: I bought this colour because of the name. /drool. This is a shimmery orange colour thats beautiful with Electric Lemonade.
Trophy Wife: This colour is often described as "liquid gold". I don't think I could come up with a better and more accurate description.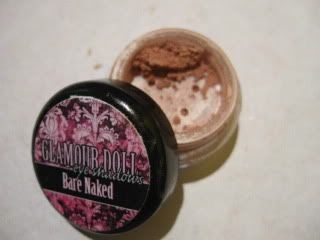 Bare Naked: A nice neutral beigey colour with a bit of shimmer. Very nice for all over the lid as an everyday look.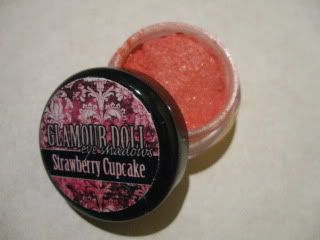 Strawberry Cupcake: A bright reddish bubblegum pink with shimmer. Did that make sense? Adore this colour, its fab.
Be Mine: What a nice colour! A bright pink with red undertones, shimmery and can also be sheered out for a more natural look.
Chocoholic: A dark brown shimmer with flecks of shimmer all throughout, and all the shimmers seem to be different colours. I think this is the perfect brown colour.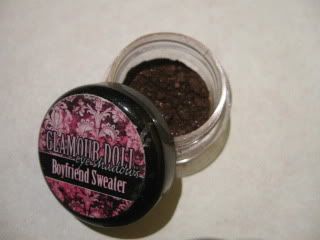 Boyfriend Sweater: A very dark brown with gold shimmer in it. Perfect paired in the crease with Chocoholic.
Lace Panties: A nice medium tones purple with gold shimmer.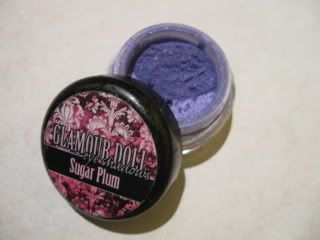 Sugar Plum: Pretty purple with lots of different colours of shimmers in it.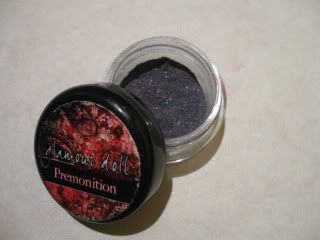 Premonition: Another of the "twi-series" shadows, this is a grey-purple colour with sorta pinky shimmer in it.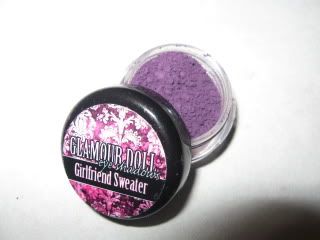 Girlfriend Sweater: I also bought this because of the name. I had boyfriend sweater so I had to complete the set =P I do not regret this purchase! A perfect matte shade, dark purple. One of the better matte colours that I own.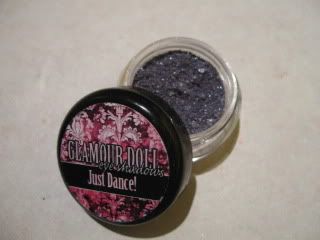 Just Dance: My mothers favourite =) a dark greyish purple shadows with white and teal looking shimmer in it. Wonderful in the crease when you're going out for a night on the town. Nice alternative to a black and grey smoky eye.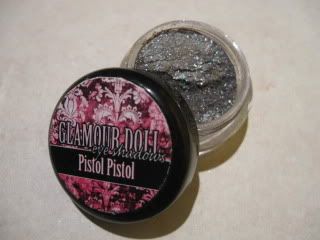 Pistol Pistol: This colour seemed to be the most popular of the colours that were recently added to the site. It's a dark grey colour with mulit-coloured shimmers in it, and I looove it for all over the eye with a matte black in the crease. Ultimate party makeup.
Shamrock: Super shimmery bright green colour. Ridiculously pigmented and for some reason its the only shadow that seems to get on everything. I open it, and there is a clump on my pants instantly. Poop. But it is a gorgeous colour.
Olivia Green: I've raved about this before. Dark forest matte green. This is what I would call a perfect eyeshadow. So easy to blend that I can barely believe it. Great for a lid colour, a crease colour, everywhere. Maybe not so much a highlight =P
Backstabber: Extremely pretty foresty grey green with shimmer to it. It's nice if you want colour but nothing too extremely obvious.
Island Chic: Beautiful turquoise colour! The gold shimmer in it makes it the perfect summer colour. I wish this came in nail polish form too. =)
Fabulous: A baby blue shimmer colour. It's very nice, but kinda reminds me of Mimi from Drew Carey and that throws me off. Of course you can make beautiful looks with it, but I don't reach for it that often.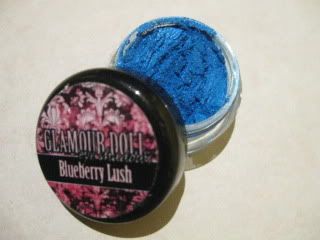 Blueberry Lush: This colour is sexy. A medium blue colour, shimmery and so pigmented that it's amazing. It's such a vibrant colour, easily on par with the famous MUFE #92 purple shadow.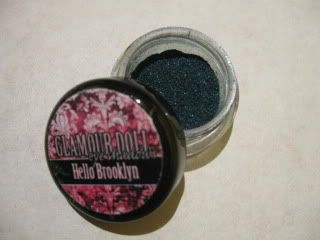 Hello Brooklyn: Dark nightime blue with turquoise and blue shimmers. This is so pretty as an eyeliner.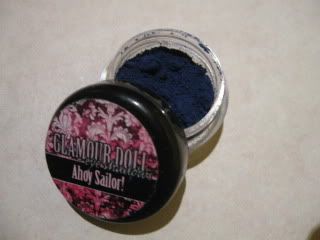 Ahoy Sailor!: Dark matte blue. I've raved enough about glamour doll matte shadows. It's a wonderful colour.
Okay guys. You survived! Hope that was helpful at least a little bit. If you want to check out any of these shadows go to http://glamourdolleyes.com
Also you can follow the owner of the site, Vee, on twitter @veeglamour
Not much else to say, I really think everyone should try out these shadows as they are super affordable and very good quality.
Thanks!