ELF recently released some new products and among those were their cream eyeshadows. They come from their studio line and are $3 each. Currently they only come in four colours which isn't too exciting, but I bought all of them =P
Left - Right
Bronzed, Candlelight, Eggplant, Dawn.
This is what ELF has to say on their website about them.
Line, shade and contour your eyes with this ultra pigmented and creaseless cream shadow. Easy to blend for layering and building color. The silky smooth and smudge-proof formula provides long lasting color for a beautiful look all day.
I am head over heels about these shadows! There is one downside, and only one, so I'll start off with that. The packaging is huge! This is a pic of their cream shadow compared to their cream eyeliner.. The difference is ridiculous. The funny part is, the cream shadows dont appear to hold that much more product. (I couldn't find weight measurements)It is going to be annoying storing these as they take up so much room.
Now onto all the positives! These colours are very richly pigmented. I use them on top of a regular eye primer as a coloured base and they make all my colours on top pop more as well as adhere better as it is a creamier base. I found no creasing when used on top of a primer (such as the elf eye primers, UDPP etc) although I would not recommend using it by itself, directly on the eye. I haven't tested it out, but the texture leaves one to believe that it would crease. Ready for some swatches?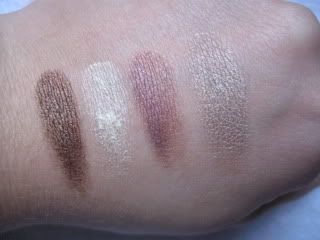 Bronzed, Candlelight, Eggplant, Dawn.
The selection of colours is not large as they were just released, however the colours they chose to put out are wonderful. Bronzed is beautiful underneath a regular everyday brown/neutral smoky eye as it adds a certain depth to the colours. Candlelight I use the most because it's just a great base underneath shadows to help them adhere better and add a bit of shimmer. Eggplant is gorgeous under purple shadows or even blue to change the colour a little! Dawn is nice under taupey colours, as well as on its own. Very versatile colours.
I was asked to compare these to MACs paint pots. Here is a swatch. On top is ELFs cream shadow in Candlelight, and on the bottom is MACs paint pot in Bare Study.
The colours are very similar. If you are beginning with makeup I would say if you have one you don't need the other. If you're a crazed addict like me, you need both. With back ups =P JOKES! ELFs shadow has a more yellow undertone, while MACs is more pink. Do they do the same job? Yes. Is MACs worth the extra expense? I don't think so. The only real upside to the paint pots are that they can be worn without an eye primer on some people and not crease whereas I don't see that happening with the ELF shadow. However, I don't think that is enough to justify paying that much extra when you can buy ELFs eye shadow primer for $1.
Definitely 5/5!! And I can't wait for them to release more colours =)
And where can you buy them?? http://www.eyeslipsface.com/