I am so excited! What is better than cheap, cute and pretty nail polish? Not much. I had heard about Essence polishes coming to Canada for a while and I had been stalking Shoppers Drug Mart like no other and FINALLY found the display! Within a week I had 6 polishes. Yummy =) I controlled myself well I thought, considering they are only $1.49 each. Granted it is for only 5ml BUT I figure I have so much polish anyway that it doesn't matter because I definitely won't be using up any polishes anytime soon. I think we all realize that I will have all the different polishes available here within the next couple weeks... But we won't talk about that =)
Sidenote, my nails at this point and time were awkwardly growing in. I had just cut them all off and was waiting for them to grow in a little before I shaped them. They are not the greatest =(

First up is High Spirits. This colour reminds me of some sort of mixture between pistachios and army pants. It is such a cool colour! I like that it isn't a super bright stand out colour that will attract everyone's attention but it is still quite unique and pretty on the nails. There is also faint silvery shimmer running throughout it that makes it just that more gorgeous. Two coater!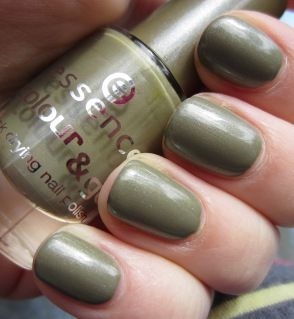 Then we have Choose Me! which is a popular colour I've noticed because it is a Zoya Charla dupe. And yes, I do have Charla and they are very darn similar. Both are so pretty for summer and they are the type of colour that I adore to wear on my toenails. This polish just made me feel like a mermaid =)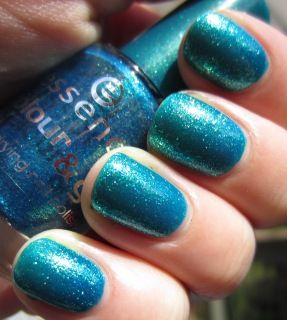 LOL can you see how crappy my paint job was on this? Vomit. I wanted to redo the photos for this colour but my nails are different shaped now and that would probably irritate me more than the crap paint job. Anywho! This is Lime Up! and it is an awesome mix of Shrek and bright lime-ness. It is a pretty cream colour that is fairly unique and is easy to work with. I just had some major issues on my pointer finger apparently. =P I have a sudden urge to do some cool black stamping over this polish. I think that would look super neat!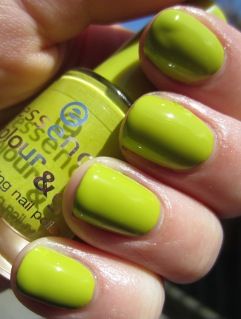 This colour is all types of awesome, minus the brush marks. If you are careful you can avoid them but I kinda wanted to show you how evident they are if they do appear. So my middle finger was painted more sloppily, if you will. This colour is called Where Is The Party? and it is a duochrome that shifts between a purple and a greenish sorta colour. This picture wasn't my favourite but it shows the different colours very well!




The last photo shows off two polishes! The awesome lavender is called A Lovely Secret and the glitter accent is Space Queen. I LOVE A LOVELY SECRET. Oh man. This is my colour for this season. It is soooo pretty. This is that muted pastel purple colour that isn't necessarily bright but it stands out so well and looks amazing on the nails. The glitter is pretty fun too! It is nice for layering and adding a bit of bling without going overboard (but we all need to go overboard sometimes :P)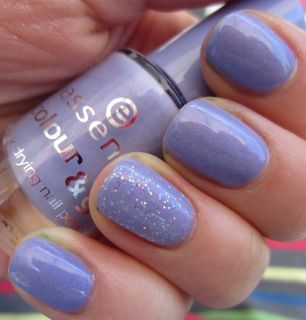 So that is currently my little Essence collection and overview! Any polishes that I must pick up? Please tempt me!
xoxo Ania