Hello loves! I'm trying to squeeze in a little Easter manicure before it becomes midnight here on the west coast! I really should be writing an essay but typing about nail polish is a lot more interesting than typing about social psych. =P

So this wasn't a super Eastery manicure but I just wanted to incorporate some pastel colours and kinda fit the season! Also, I swear I'm not obsessed with putting rows on my nails LOL I just really liked the rhinestones so this time around I wanted to keep up the trend. I thought it was cute and simple and fairly easy to do yet it was pretty eye catching!
The pretty purple is from the Sally Hansen Hard as Nails Xtreme Wear *sigh* line and is called Lacey Lilac. SO PRETTY. It is my new go to purple pastel. I'm officially obsessed. Then I used a Rimmel French Tip nail polish in white and I really like this polish because the tip is super skinny and you can do nail art with it! I have some nail art pens but the polish in those is fairly meh so I like this Rimmel one because the polish is good and opaque! Lastly! I needed some sparkle because glitter makes the world turn. I added a coat of Orly's Prisma Gloss Gold which is one of my favourite polishes. It is such a sheer and subtle glitter and it can liven up any manicure! Loooove it so much. I need a similar polish but in silver. And then all the other colours of the rainbow.... =)


And here is a little close up of the Rimmel brush! I actually bought this thinking it was just a regular white polish but it was a good mistake because I use this so much!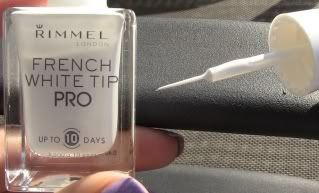 I hope you all enjoyed my spring time Easter manicure! I promise my next manicure won't have a row of any sort of dots on it! (Because it will probably be pictures of Flash Black. I wore it and OOH EM GEEE <3) xoxo