Hi everyone! I've been already slacking on the posting which is terrible! I've started a new job and while it is only 3 days a week, I start at 7am or 6am those days. So I am pooped! But so far so good =)
Today I'm going to be sharing some American Apparel polishes with you! I bought 5 of these once when there was some coupon online and I don't regret it a single bit =D I love the bottles, I love the brushes and the formula is amazing as well! I'm going to show you 3 of them today, two pretty colours and one which is the coolest glitter topcoat ever!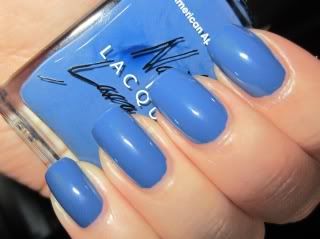 First off, we have Cameo Blue. I adore this colour. I have recently strayed from wearing cream finish polishes, even though they used to be my fave. (Too many interesting glitter/holo/flakie etc polishes to try out =P) But this colour reminds me instantly of why I loved cream finishes! It is so pretty and dries so shiny. The colour is gorgeous because it is bright but not in a neon obnoxious way! So cool!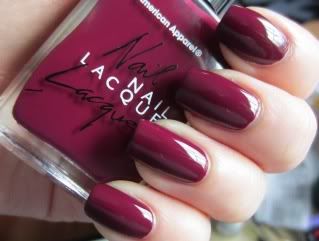 Next up is Berry. This isn't a colour that I am super in love with but it is a good staple in my collection! A nice classy looking burgundy colour. I like this as a nice alternative to a good ole red colour!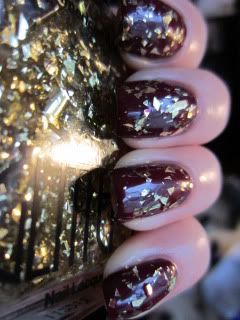 First off, I HATE this photo. I took over 50 photos and this was sadly the best one. But I really wanted to show you guys this polish because it is 100% my favourite of the AA polishes I have tried. This is called Meteor Shower and it is a mix between a flakie and an actual glitter. It literally looks like flecks of gold. Amazing. I wore it over Berry a couple months ago, like in this picture, and I have never gotten as many compliments on my nails as I did when I wore that mani to work. Not even kidding, it was like every fifth person made a comment. People love their gold ;)
Anywhoo, have you tried any American Apparel polishes? I want to go back and buy a couple more because I am majorly impressed with the ones I've got!
xoxo Ania